Review: Werewolves Prefer Shortbread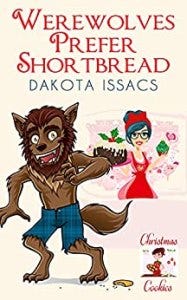 Title: Werewolves Prefer Shortbread
Author: Dakota Isaacs
Page Count: N/A
Publication: October 2021
Series: Christmas Cookies
[Amazon | IndieBound | BN | Find it at your local library]
(Other reviews: )
This book is terrible.
An ARC from Netgalley, which is how I get most of my books these days, I picked up this one because it sounded cute and I've been in the mood for holiday romances as of late.
I regret this decision.
Where to begin? We're given a muddled background that Callum McAllister is from Scotland but he had to leave to his place in the US for some reason why bringing thee werewolf pups with him that he rescued from an orphanage. He has the hots for the local bakeshop owners who has done amazing things and yet is only 23! There is also the plot line of a McAllister kicking out the baker's grandmother from the cottage on his property and that plot line was immediately forgotten.
This is all in the first few pages mind.
The book is short, thank god, but the action is so haphazard and the explanation of why things are the way they are leaves one wanting. There is no chemistry between the protagonists and no conflict.
I don't get how people are giving this five stars. It's totally a masterclass in how not to write.
Isaacs does not have a social media presence that I could fine. There is a Dakota Isaacs whose VP or something or another but their Twitter doesn't mention any of the Dakota Isaacs the author books. Oh yes readers, Isaacs has gifted us all with more stories. Thank god they digital because they are not worthy of the paper they would be printed on.
Totally, absolutely, do not recommend.