Review: The Cracked Spine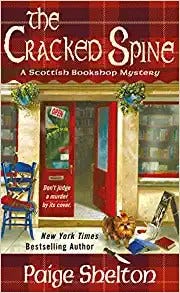 Title: The Cracked Spine
Author: Paige Shelton
Pages: 304
Publication: 2017
Series: Scottish Bookshop Mystery #1
[Amazon | IndieBound | BN | Local LIbrary]
(Other reviews: Kirkus, Publisher's Weekly)
I've been on a cozy mystery kick as of late–who am I kidding? I'm always in a mood for cozy mysteries. Set in a foreign local, especially in Scotland, is a cat nip. I was also attracted to this book as the lead is an archivist which is one of my degrees.
There is a lot wrong with the book:
The lead answers an ad she finds for this used bookshop in Edinburgh and is hired on the spot. Is there qualified people in Scotland?

It took nearly a hundred pages before the murder occured; far too slow

She immediately befriends the cabbie who takes her to the bookshop on her first day and he and his wife happen to have a spare cottage for her to move into.

Of course she meets a hot Scot who wears a kilt unironically.

She's in Scotland two days and she's already a detective for people she doesn't know.

The whole puzzle of random torn up sheets of paper scattered around the murdered person's apartment that Delany happens to find is really implausible.
Overall, it's just a hodge podge of elements that the author was told would make a great cozy mystery dumped into a cosmopolitan city. The strange this is this is not Shelton's first time at the rodeo as she has other cozy mystery series under her belt.
I'm not sure what's going on. I found myself picking up and putting down the book numerous times before settling in to finish it. It's not that I would not recommend it–it's got a lot of five star reviews on Goodreads–but I'm not going to continue on with the series.