Review: If the Shoe Fits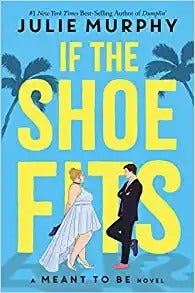 Title: If the Shoe Fits
Author: Julie Murphy
Page Count: 304
Publication: August 2021
Series: Meant to Be #1
[Amazon | Indie Bound | BN | Find it at your local library]
(Other reviews: Publishers Weekly, bookreporter, School Library Journal)
Retellings are a tricky thing. Either you can get it it on point or you can totally screw it up. Retellings are either a bountiful source of material or can be a hack job (I'm looking at you Pride and Prejudice and Zombies).
This is all to say I went in to If the Shoe Fits with zero expectations.
And I'm glad I did or else I wouldn't have probably found the book so delightful!
I'm not sure how I heard about this book (probably social media somehow) and Julie Murphy was not a name known to me (she's also the author of the young adult book Dumplin' which was turned into a Netflix movie). But here we are!
There are several things that appealed to me about If the Shoe Fits:
The heroine is plus sized

The heroine is confident in herself

The ending was delightful with a HEA

It tapped into my love for trashy reality TV
The book was also well plotted and the interactions between the heroine and hero felt natural and very, very sexy. There was no fetishization of Cindy just because she was fat which is always a relief. I think that because Murphy herself is zaftig and writes with such authenticity about the dating world. This is not my first book with a fat heroine who is on point and I'm thrilled by this. There needs to be more like this.
This is the first book in the Meant to Be series, which I'm assuming will be written by Murphy. I cannot wait to see what else she writes.
tl;dr A delightful retelling of Cinderella with a plus size heroine set in the trashy reality TV world. Cindy follows her dream AND gets the man. Five stars.
(P.S. Dumplin' is available free to read via Amazon Prime.)