Review: Half-baked Holidays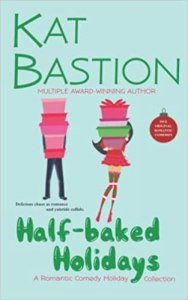 Title: Half-baked Holidays
Author: Kat Bastion
Page Count: 300
Publication: November 2021
[Amazon | IndieBound | BN | Find it at your local library]
(Other reviews: )
Before I begin my review, I need to acknowledge that it is a lot of work to write a novel. Now, I haven't written a fiction book, but I have written enough words that I turned into two books. Writing fiction has a lot of moving parts from writing the plot, character, and structure plus the creativity it takes.
Which means I always feel a bit guilty when I review a book and it's terrible.
Half-baked Holidays is terrible. I would dare to go so far as to say awful. I read the first story and thought, "What the hell did I just read?"
A collection of romcom holiday themed short stories styled as being "multicultural" which piqued my interest. As I said in a previous review, I've been in the mood for holiday themed romcoms. Multicultural? Even better.
The first story, not so much. There is something off about the romance and the detail on the physical attributes or cultural background to denote that the book is "multicultural."I kinda feel like the author is probably white trying to cash in on demand for multicultural books, especially romances.
The couple's relationship, supposedly two old high school crushes, was severely lacking in chemistry. The premise is that the heroine is coming home to see her father and his new family (which turns out to be a menagerie of adopted kids from all over the world. I guess this multicultural?) and she is standing in front of their house at 6am when a crush from high school magically shows up and introduces her to his family who live across the street, of course, and there is hand  holding and "this is the one" by the time lunch rolls around. I'm not opposed to fast romances but this one is a bit beyond.
I found very little on Kat Bastion online other than her website, Twitter, and her author's FB page which was notably absent of any personal interaction with her fans and the only likes on her post were hers. Various places in her social sphere note she writes with her husband Stone. I did find her personal FB page with her full name so the name isn't made up (I guess). Yet, there is very little about who she is as a person or an author on her website so I don't get the gist of who she is to help feel the curiosity of a reader to an author. (I cannot be the only one who stalks authors while reading their books. But it is much easier now!) I couldn't find much engagement with her/their fans which left me a bit surprised. Don't you want to build an audience? Don't you want to meet and greet with the people who read you? Several close friends of mine are indie authors and they cultivate their online life a much as they do their writing and it pays off.
tl;dr: Do not pay money for a book where the author clearly needs a writing class or ten.